Irina Nedeva
Irina Nedeva is a President of AEJ-Bulgaria, member of the Management Board, journalist and documentary filmmaker with extensive experience in public broadcast journalism. She is an editor and host with the main informational channel "Horizon" at the Bulgarian National Radio. She is also active in the field of producing and coordinating independent film, television and radio projects. As a strong believer in the social importance of the critical thinking and open public debate she is involved with the first independent Center for Culture and debates "The Red House" since the founding in 2000 till today.
Contact: irina [at] aej-bulgaria.org
Ivan Radev
Ivan Radev is a member of the Management Board of the Association of European Journalists – Bulgaria and leads the project "Media Literacy in the Classroom". He has over 10 years of experience as a journalist. Ivan has graduated Balkan Studies at Sofia University and follows closely the development of societies in Southeastern Europe. He speaks Romanian and he used to be a correspondent for Bulgaria of the Romanian National News Agency – Agerpres.
Contact: radev [at] aej-bulgaria.org
Boryana Dzhambazova
Boryana Dzhambazova is а member of the Management Board of the Association of European Journalists – Bulgaria, part of the team working on the project "Media Literacy in the Classroom". She is also a freelance journalist, who has started her journalism career in 2005, writing for both Bulgarian and foreign publications. Since then she has covered a wide range of topics – from economic and political developments to social affairs and human rights issues. Her articles appeared in the International Herald Tribune, Business Week, and Fast Company, among others. She holds a bachelor degree in journalism from Sofia University and a master's in new media from New York University as a Fulbright scholar.
Contact: boryana.dz [at] gmail.com
Camelia Ivanova
Camelia Ivanova is a member of the Management Board, part of the project "Children and the Media – Mission for Ethical Coverage", she is a correspondent for the German public television ARD. Within the organization she works primarily for the development of the internal and external communication of AEJ-Bulgaria. As a journalist he started in the financial daily "Pari", later in 2008 he joined the Bulgarian edition of the International BusinessWeek Magazine, and in 2010 he took over the ProjectMedia EU funding site, she used to be an editor Forbes Bulgaria magazine.
Contact: camelia [at] gmail.com
Maria Cheresheva
Maria Cheresheva is a member of the Management Board of AEJ-Bulgaria and part of the team working on the project "Mediator 2". She works as a correspondent of the Balkan Investigative Reporting Network (BIRN) for Bulgaria. Former editor of ENTERPRISE and Europe.Dnevnik European portal with experience in various journalistic and communication projects concerning topics such as European Union and human rights protection. She has studied European Studies in Sofia and Maastricht, the Netherlands, and used to be a trainee in the Media Monitoring Department of the European Commission's Directorate-General for Communication.
Contact: maria [at] aej-bulgaria.org
Iliya Valkov
Iliya Valkov is member Executive Committee of the Association of Europe Journalist – Bulgaria and works as a political journalist and a professor of TV and radio journalism, media regulation and media and politics in the Media and Public Communications Department of the University of National and World Economy. He has an MA in Sociology and a PhD in crisis communication. Political observer in the magazine and online media "Club Z". He also collaborates with various printed and electronic media outlets in Bulgaria and is active as a political consultant and analyst. He is an author of the monograph "Communication Dynamics Of Civil Movements", as well as numerous publications in the field of media freedom, crisis and public communications, media ethics and media regulation, media and politics. In 2017 Iliya Valkov received an award for journalism from "Access to Information in Bulgaria".
Contact: valkovilia [at] gmail.com
Rossen Bossev
Roseen is a member of the Management Board and a journalist working for Capital Weekly in Sofia, Bulgaria. He covers judiciary, law enforcement and human rights issues. His articles are part of the ongoing judicial reform in Bulgaria. He was twice awarded at the International Right to Know Day for his use of the freedom of information act in his investigations. He received his bachelor's degree from the. He has also specialized in investigative reporting in the United States.
Contact: rosenb [at] capital.bg

Emilia Zafiraki
Emilia Zafiraki is a member of AEJ-Bulgaria and a project manager of the initiative "Mediator 2" within the organization. She has graduated from the UNWE with a degree in Finance, later specialized in "Human resources management and development" at the Management school at NBU and eventually earned an European master's degree from UCTM in "Environmental protection and sustainable development". She has over seven years of experience as internal HR Consultant, and was the HR Manager at Economedia from 2010 till September 2012. She has managed projects related to organizational design, restructuring and optimization of work flow, building of performance evaluation systems, improving effectiveness, change management, building of rewards and benefits systems, employer branding value enhancement, internship programmes, as well as projects funded by the European Union, aimed at enhancing employees' knowledge and skills in the company. Since 2012 she takes the position of Organizational development consultant and has participated in and delivered several projects, aimed at building organizational capacity and design, both for the business and non-governmental sectors. At the same time, until the end of 2015, she has been a part of a team which has built and developed a Career Center for the Faculty of physics at Sofia University. She is a Chairman of the Management Board of Career with a Cause, an association aimed at enhancing the organizational capacity of the non-governmental sector in Bulgaria.
Contact: e.zafiraki [at] aej-bulgaria.org

Tsvetelina Hristova
Tsvetelina Hristova is a member of AEJ-Bulgaria and part of the team that works on the project "Media Literacy in the Classroom". She has 10 years experience in Bulgaria's NGO sector with different administrative positions in a donor organization supporting the development of civil society in Central and Eastern Europe. Later she joined De Pasarel Foundation – Bulgaria team (now Polder) to coordinate volunteering social workers from the Netherlands at Bulgarian social services for people with intellectual disabilities. As part of the AEJ-Bulgaria operational team Tsvetelina strongly believes that the free media environment is vital to any democratic society. Within the "Media Literacy in the Classroom" project she is engaged with community building activities.
Contact: t.hristova [at] aej-bulgaria.org
Kristina Hristova
Kristina is co-founder of AEJ-Bulgaria and a coordinator of the Coalition for media literacy in the education. On her previous position she was a director of the Red House Centre for Culture and Debate (June 2016-September 2018). Kristina is one of the founder and president of the Association of European Journalists-Bulgaria in the period November 2010- September 2016. She has also long term experience as manager and editor on EU issues in Dnevnik.bg. For her work as journalist, she has been awarded three times by the Representation of the European Commission in Bulgaria, with Robert Schuman Award for Journalism, category Internet. Kristina studied International Relations in Sofia, and Political science and Political Sociology in Paris
Contact: kristina [at] aej-bulgaria.org
Vladimir Ivanov
Vladimir is co-founder of AEJ-Bulgaria and a head of the communication department of WWF Bulgaria. He has worked as an online editor, radio host, translator, mountain guide. As a part of AEJ-Bulgaria he has special interest to social media, civil society and netizen behavior. He has studied philology and European studies in Sofia and Paris.
Contact: vladimir [at] aej-bulgaria.org
---
Alexander Alexandrov
Alexander is a freelance journalist in Ikonomika Magazine and Enterprise Magazine. He's also owner of a small group of niche websites including uchi.bg, pixelmedia.bg, projectmedia.bg, newbusiness.bg, teenews.eu, etc. He has 14 years experience as technological and business journalist (Balkan Agency, BANKER Weekly, Computerworld Weekly, etc.) and is a beginning sci-fi author.
Contact: alexinfoag [at ]gmail.com
Alexander Shabov
Alexander Shabov is a reporter with 20 years experience in the print media (newspapers) and news agencies. For five years he was an editor and reporter for the news agency "Focus" and Radio "Focus" – Veliko Tarnovo. Since 2018 he is a freelance reporter and creates the news website Aktualno Svishtov. He graduated from the University "St. St. Cyril and Methodius" – specialty "Bulgarian philology". Alexander is an amateur photographer, blogger and outdoor sports lover. His motto is: freedom, fairness and love.
Daniel Penev
Daniel is a freelance journalist. He has a bachelor degree in Journalism, Political science and International relations in AUBG. He has graduated International relations in Central European University in Budapest. He has been an trainee in Dnevnik.bg, bTV and Reduta.bg, also in the European Parliament in Brussels. He has publications in online and print media in Bulgaria, but also in EurActiv.com, The Millions and Wake Up World. In the recent years he has participated in exchange programs in Great Britain, Germany, Belgium, Iceland, France, Czech Republic, Pland, Turkey.
Contact: daniel_penev93[at]abv.bg
Dani Jordanov
Dani is a reporter in the TV program "Gospodari na efira". He has experience in several print media outlets and a total of 10 years working as a journalists. He focuses on investigations about public procurements, EU funded projects and all kinds of abuses in the sphere of public finances and taxes. He is eager to delve into complicated and dangerous topics and he strives at working for the public benefit.
Contact: dani[at]gospodari.com
Diana Ivanova
Diana is a journalist and explorer and one of the founders of the festival in Bela Rechka GOATMILK. She has specialized in group psychoanalysis in the International society for group analysis, based in Bonn. In 2014 she won the debut award as a director of the documentary film "Hear" at the festival Golden Rython. She has worked as a journalist for radio "Free Europe" in the period 1994 – 2003. She has a couple of prestigious journalistic awards among which is "Writing for CEE" in 2006.
Contact: dianaiwanowa[at]t-online.de
Dimitrina Pandurova
Dimitrina Pandourova has been working as a journalist for 20 years now. She has been known a face from the TV screen as a presenter at the programs "Tazi Vecher" and "Pod Lupa". There she has interviewed where hundreds of politicians, diplomats, economists and last but not least,famous actors, directors, artists, writers. She has a Bachelor in Mass Communications at the NBU, and a degree in Political science with specialiazation in "Political Management" at the University of Paisii Hilendarski. She has been living in Germany for four years now, where he works as a media consultant. In May 2017 she started the online platform targeted at Bulgarian audience abroad, called Info-Port BG, in which he presents current news,analysis and travel stories.
Dimiter Kenarov
Dimiter is a freelance journalist and contributing editor at The Virginia Quarterly Review. His work has appeared in The International Herald Tribune, Boston Review, Esquire, The Nation, Outside, Columbia Journalism Review, The Pulitzer Center on Crisis Reporting, and others. He holds a bachelor's degree in American and Russian literature from Middlebury College and a master's in English from the University of California, Berkeley.
Contact: kenarov [at] gmail.com

Doraid Al Hafid
Doraid is dedicated to international journalism and intercultural communication. He is co-founder of blog radio Zemlyanka, where he is a co-host of the show "Global voices". He has a bachelor degree in journalism from Sofia University, and a master degree in Media, communication, culture in the German-French University.
Contact: alhafid [at] aej-bulgaria.org
Ekaterina Voynova
Ekaterina studied European Studies in Sofia University and before graduating started work in Dnevnik's internet edition, in the specialized section Evropa. After almost 3 years there she temporarily put her work on hold to study International Relations and Diplomacy in Leiden. With her return to Bulgaria she came back to Dnevnik.bg, as an internet editor, and mainly for internal news. Currently she's working in the communications department of WWF – World Wildlife Fund for Nature.
Contact: ekaterina.voynova[at]gmail.com
Elena Fuchedzieva
Elena is a journalist at TV program "Gospodari na efira" and she is responsible for the investigations of the correspondents that contribute to the show. Her professional experience is dedicated to investigative journalism. As a freelance journalist she has been focused on the topics from the Korean peninsula. She has worked in collaboration with foreign journalists and film directors in various projects. She has graduated Journalism and electronic media in Sofia University.
Erol Emilov
Erol Emilov graduated in Bulgarian Philology at the Southwest University "Neofit Rilski" in Blagoevgrad, where he gained a pedagogical qualification. He has been in media since 2011. He then started collaborating with the Dnevnik newspaper and web site Dnevnik.bg. From January 2013 to July 2014 he is a correspondent of the media group LIVEMEDIA in Blagoevgrad. He is then a reporter and editor in the Blagoevgrad editorial office of Topnovini.bg and later an editor at the 7 Days Blagoevgrad and 7DniBulgaria.bg sites. Currently he is an editor "News" at Nova.bg.
Contact: erol_emilov[at]abv.bg
Fani Bachvarova
Fani Bachvarova is a digital specialist, journalist and co-founder of Motif Media, writing documentary stories on human rights issues, nature conservation, inequality and access to education. She works for international organizations such as WWF, the United Nations High Commissioner for Refugees (UNHCR), Friends of the Earth and the Association of European Journalists-Bulgaria. As a person with many interests and ideas, she graduated from MA Media and Business at Erasmus University of Rotterdam, Master degree in Journalism at Sofia University and bachelor in Finance at the University of National and World Economy to unite them all in every new venture she undertakes.
Contact: fanibachvarova [at] gmail.com

Francesco Martino
Based in Sofia, Francesco works as a journalist and Balkan expert for Osservatorio Balcani e Caucaso, the main Italian online news provider and research centre devoted to social and political change in South-East Europe, Turkey and the Caucasus. He collaborates also with various Italian and international media. Fluent in Italian, English, Bulgarian, Serbo-Croatian, he completed a BA in Media Studies at the University of Trieste, Italy.
Contact: martino [at] balcanicaucaso.org
Hristo Petrov
Hristo has xperience as an editor at Forbes Bulgaria, where he was responsible for technology topics. Previously, he has had 4 years of experience in business journalism in Dnevnik.bg and Capital weekly, where he also covered technology and telecommunications topics. He is the author of an online security blog Questona.com, where he publishes information about anything from security of internet communications to hacking of solar power plants.
Irina Todorova
Irina Todorova was born in 1989 in Bourgas. She graduated journalism with "Television" profile. She has a Master's degree "Virtual Culture" at Sofia University "St. Kliment Ohridski ". Currently she is a PhD student at the Faculty of Journalism and Mass Communication at the same university and works as a freelance journalist. She is author of: interviews, articles and reviews for various online media in Bulgaria. She has interviewed artists and directors of contemporary Bulgarian cinema. She worked as a journalist at the Municipal Radio Burgas."People of Bourgas" is the name of her program for culture and literature. She has experience as a reporter in the "Blagovestie" broadcast on the Bulgarian National Radio. Her articles can be read in the regional edition of the newspaper "24 chasa" (Burgas). The areas of her professional interests are social and public processes; media freedoms; culture, art, literature, theater and cinema. Especially she is interested in problems connected with the direct interaction between journalism and culture, their commitment to social networks.
Contact: ir.todorova[at]gmail.com
Jodi Hilton
Jodi Hilton is an American photojournalist and most recently a Balkan Scholar teaching photojournalism at The American University in Bulgaria. She graduated in art from Colorado College and completed a master's degree in journalism at The University of Missouri. From 1998-2000 she was staff photographer with Copley Newspapers in Chicago. Since 2001, she's been a freelance photojournalist and journalist and has worked and lived in several countries. She's been based in Bulgaria since 2015. In addition to editorial work, she also works for organizations such as the United Nations and takes assignments from non-profits. She is a contributor to the agency NurPhoto (Italy).
Contact: www.jodihilton.com / jodihilton [at] gmail.com 
Kosara Belnikolova
Kosara Belnikolova is a journalist at Dnevnik BG and correspondent for Macedonian Meta mk from Sofia. She has experience as an international editor in the News Department in BTV televison. She has been working as an editor at different online media – educational portal Academic BG, politicaly orientitated Faktor.bg and Vesti BG. She was also been part of the student online radio "Reakcia". She graduated in Journalism with a profile "Radio" at the Sofia University "St. Kliment Ohridski" and has a master degree in European Integration and Diplomacy of the EU . She speaks English and French.
Contacts: kosarabel[at]abv.bg
Lachezar Lisitsov
Lachezar Lisitsov is a reporter at Flagman.bg, based in Sofia. He graduated Naval School in Varna and he has worked a naval officer. He has also Master degree in "Political management" in Sofia University. Lisitsov has worked as journalist in newspapers and online media in Burgas and Sofia since 2008.
Contact: l.lisitzov[at]gmail.com
Lyubomira Konstantinova
Lyubomira works in the cultural program "Hristo Botev" of the Bulgarian National Radio. Her professional experience passes through few televisions, one newspaper and also in the field of online media. She made a PHD in the Sofia University with the doctoral thesis "Radio and art. Program interpretations of the Bulgarian national radio", successfully defended in 2008.
Contact: lkonstantinova [at]abv.bg
Marieta Dimitrova
Marieta Dimitrova is an Editor-in-Chief and owner of the news agency Blagoevgrad News. She also works a correspondent for the broadcast "Gospodari na efira" covering Blagoevgrad and the region. She was introduced to journalism in 2003 as a schoolgirl, and she has been part of the youth radio broadcast team at Radio Blagoevgrad. Several years later she is the author and conductor of the morning show on the Regional TV Oko. Shortly, she becomes a part of the editorial team of the newspaper "Viara" and that of Radio Blagoevgrad. She is focused primarily on investigative journalism; the materials she prepares and publishes are aimed at revealing corrupt practices and abuses of power.
Contact: marieta_dimitrova[at]mail.bg.
Maria Petkova
Maria Petkova is a freelance journalist working on topics related to the Balkans and the Middle East. He started working as a journalist in Egypt in 2009. She has worked for Capital weekly, bTV, NovaTV, 24 hours, Daily News Egypt, Jadaliyya, Middle East Eye and Al Jazeera. She has a Bachelor degree in International Relations at Brown University in the US and a Masters degree in Middle Eastern Studies in Oxford, England.
Martin Dimitrov
Martin Dimitrov is the Bulgaria correspondent fro the English-language regional media Balkan Insight since January 2018. He is also acting as an editor of the English-language Kapital Quarterly magazine, published by Economedia. Previously, he covered domestic and foreign policy topics for the economic weekly "Capital" for three years. He graduated University of Glasgow, UK, in 2014 with a Politics degree.
Olga Uzunova
Olga Uzunova has experience as a anchor of the broadcast program eMission Bulgaria in BITelevision. She took part in the preparation of programs, doing reports and interviews. Olga has a Bachelor degree in European Studies at Sofia University "St. Kliment Ohridski "and Master's Degree in Business Management of New Technologies at Sheffield University.
Contact: ouzunova[at]gmail.com
Ralitsa Kovacheva
Ralitsa Kovacheva is a Doctor of Journalism and assistant professor of international journalism at the Faculty of Journalism and Mass Communication at Sofia University "St. Kliment Ohridski". In 2017 she has published her books "Centre and Periphery of the Europeanised Public Spheres" and "The Mediatised Dimension of Foreign Policy" (co-authored by prof. Maria Neykova, PhD). She has worked as a journalist for more than 20 years, with a special focus on the EU issues in recent years. She was the national winner in the category "Internet" in the competition for the European Parliament Prize for Journalism 2011. Since 2012, she has been a regular participant in a series of seminars for the regional Bulgarian media organized by the European Commission Representation and the European Parliament Liaison Office in Bulgaria. In 2014, she represented Bulgaria in the pan-European Civil Dialogue organized by the European Commission in Brussels (27.03.2014). She is among the founders of the Bulgarian initiative group "A Soul for Europe", part of the European initiative "A Soul for Europe".
Contact: kovacheva.r[at]gmail.com
Rozalina Laskova
Rozalina engages actively in the field of good governance, active civil society, freedom of speech and media freedom. She is member of the managing board of the Berlin based international organization MitOst e.V. She is also a freelance cultural manager and researcher on topics such as cultural and creative industries, art management, social innovation and human capital, good governance. Rozalina studied law at Humboldt University in Berlin and business administration at the University for National and World Economy in Sofia. She worked in the state administration in Bulgaria and Germany in the spheres of good governance, modernization and reform of the administration, European Structural funds, EU policies. She is a fellow of Goerdeler-Kolleg for Good Governance (Robert Bosch Stiftung) and Marshall Memorial Fellowship (GMF).
Contact: laskova.rozalina[at]gmail.com

Ruslan Tard
Ruslan is a blogger and a freelance journalist interested in the topics of the Middle East and Northern Africa. He has been a lecturer in the Diplomatic institute, New Bulgarian University, Sofia University and the Red house. He is a co-founder of the Bulgarian section of Global voices. In 2009 he founded the Forum for Arabic culture. He has graduated public relations in Sofia University.
Contact: ruslantra[at]gmail.com

Simona Veleva
Simona is a lawyer, a PhD student in Constitutional Law at the Sofia University "St. Kliment Ohridski" focusing on "Freedom of speech – national and European dimensions". Since 2016 she has been teaching regular seminars at the Sofia University. Her scientific interests are related to constitutional, media and labour law. She has scientific publications on topics such as the legal regulation of electronic communications, commercial speech, protection of journalistic sources, functions of the National Assembly after the Treaty of Lisbon, etc. she is a co-author of the Historical Book by Todor Vlaykov "The Personal Regime in Bulgaria". Consults various international and national organizations..
Contact: simona.veleva[at]yahoo.com

Spas Spasov
Spas is a correspondent in Varna and the Black Sea region for Capital Weekly and Dnevnik.bg. He has a master degree from TheUniversity of Veliko Tarnovo – Bulgaria where he graduated in Bulgarian Philology and French language then worked for various print and electronic media. In 1995 he worked on the program concept for the first FM information radio station in Bulgaria tracking the news updates. He followed the "Internet Media" course of the"Centre de formation et perfectionnement des journalistes" in Paris, France,was an intern at "Radio France Internationale" and "France info" and has specializations in the United States and the Netherlands.
Contact: spas[at]dnevnik.bg

Spas Kraynin
Spas is a reporter in the "Horizon" program at the Bulgarian National Radio. In 2016 one of his journalistic investigations was awarded by the Radostina Konstantinova Foundation. He is the winner of the annual scholarship named after Prof. Mihail Minkov, awarded annually to a student at the Faculty of Journalism and Mass Communication at Sofia University.. Spas has been interested in the journalism since he was at higschool, when he and his collegues created the first online radio station in Pazardzhik. His professional interests include social, historical and domestic issues, but his passion is reporting on children rights.
Contact: kraynin.spas[at]gmail.com
Tayfur Husseinov
Tyfur Husseinov has a long experience as a journalist. He is currently deputy editor-in-chief of the weekly bilingual newspaper, Haftaya Bakış, published in Bulgarian and Turkish, and in 2002 he became part of Zaman Bulgaria's team. There he has worked as a correspondent and deputy editor-in-chief. He has published articles about Turkey in various Bulgarian publications and has participated in conferences on the same topic. His fields of expertice include religious and minority rights, intercultural dialogue, tolerance, human rights, media freedom, politics and sport. He has studied Bulgarian language and history at the University of Shumen and has a Master's degree in Contemporary History.
Contact: tayfurza[at]gmail.com

Theodor Spasov
Theodor is a freelance journalist in the fields of international relations and human rights. He is author of articles, analysis, comments and travel stories published in some of the best reputed Bulgarian media. He has a long experience as a manager and editor of the contributors'demartment in an online media, as well as an international editor in a students media. He has a bachelor of Journalism and Master degree in International Journalism, both at the Sofia University St. Kliment Ohridski. He speaks English, Russian and Spanish. Winner of the "Journalist of the Year" 2016 award due to his efforts to protect the rights of the minority groups , asylum seekers and refugees, women, people with disabilities and animals.
Contact: theodorespassov[at]gmail.com

Tanya Krasteva
Tanya has broad experience as a financial journalist. She began her career in 2002 as a reporter and editor in the Banker weekly, where she has carried out a number of investigations on public companies and bankrupt companies. In 2006 and 2007 she left journalism for a short period, when she started working as a Investor Relations Manager at Transcarpt AD. In 2009 she became a presenter of economic news in the Bulgarian National TV, and then joined Bulgaria's On Air team as an author and presenter of the daily economic program INVESTBOOK. She is the author of the book about the Bulgarian Stock Exchange Market. . She holds a Master's degree in Finance at the University of National and World Economy. She has specialized in journalism at the Sofia University "Kliment Ohridski" and also a specialization in public speech at NBU. She has attended training for financial journalists at the Thompson Reuters Foundation.
Venelina Popova
A longtime journalist in the Horizon Program of Bulgarian National Radio, a correspondent from Stara Zagora. Winner of the Panitza Prize for civic courage. She has gone through two court trials for her investigations, both of which with acquittals. She believes in the power of independent and honest journalism.
Vladimir Hristovski
Vladimir Hristovski graduated in Journalism and Mass Communication at St. Kliment Ohridski University and has extensive experience in media outlets such as Bulgarian national radio, Alma Mater Radio, He was a presentor in Radio Romance and author in the newpapers Business News and Anons. For more than 10 years he has worked for various programs at the Bulgarian National Television, he has been a reporter for the daily news in BNT2. Currently he is working in the news agency "BGNES".
Asociated members:
Boyko Blagoev
Boyko is the PR Officer of the European Parliament's Information Office in Bulgaria. He is also the co-founder of 365 Association that organizes the free walking tours of Sofia, Plovdiv and Varna as well as part of the Board of Tuk-Tam Association that brings together foreign-educated Bulgarians. Boyko has been international news reporter at the Bulgarian News Agency and has been a trainee at the Press Service of the European Parliament. Beside certified tour guide, he is also freelance translator and interpreter. He writes about his favourite places in Sofia in the Spotted By Locals guide. For years, Boyko has been collecting quotations in his website citati.BG.
Contact: boikoblagoev [at] gmail.com
Ekaterina Panova
Ekaterina Panova is a journalist with experience in news agencies. She was an editor and reporter at FOCUS News Agency for ten years. Since 2014 she has been a political reporter at Bulgarian National Agency /BTA/. She also has experience in prepress. Ekaterina has two Master Degrees – in Culture at Southwestern University "Neofit Rilski" and Psychology at Varna Free University "Chernorizets Hrabar". Ekaterina is an amateur photographer and a blogger. She is interested in children's rights.
Contact: [email protected]
Gergana Georgieva
Gergana Georgieva is a freelance journalist. She has previously been a journalistic fellow with IJP in Germany, has worked as a reporter for "Iskra.bg" and as an assistant editor for the international magazine "The Business Year" in Oman. Gergana has experience in finance, education, diplomacy and statistical analysis. Her scientific work lead her to Ethiopia where in 2019 she presented a research paper on the freedom of press in Bulgaria at the annual UNESCO World Press Freedom Day conference. She holds a degree in Philosophy, Politics and Economics with Data Science from University College London.
Miglena Angelova
Miglena Angelova is a TV journalist and producer. Master's degree in Journalism and Mass Communication from Sofia University "Kliment Ohridski". She has specialized in television journalism, media management, public relations, Internet communications and psychology of journalism. The producer, author, and host of the sincere and personal talk show aired daily from 2000 to 2013. Since 2009, he has been concentrating on the specifics of internet media, social psychology and the psychology of journalism. She specializes in the International Academy of Television and Radio of Russia.
Participates in seminars of the Academy in Naples, Copenhagen, Vienna, and others. Since 2014 he has given lectures to future journalists at UNWE and Sofia University "Kliment Ohridski". Since 2015 she has been working on documentaries on the investment climate in Bulgaria with Shanghai Media Group. Develops three channels on YouTube. For the issues of "Honestly and Personally" with journalistic investigations about the property mafia, about "expired investigative terms", for abuse of power, etc., a total of 27 cases have been brought against her, in which she is acquitted. "Honest and Personal" was stopped twice on air because of censorship. From Nova TV in 2009, because of an issue against Sopharma's eco-violations, and from TV7 in 2013, for two issues related to bank arbitrariness.
Rosen Angelov
Rosen Angelov is a freelance journalist. He holds a bachelor's degree in journalism from the NBU and a master's degree in political science – UNWE. Since 2007 he has worked as a contributor to regional and national publications on political topics and independent investigations. Creator and editor of Ugozapad Info. He believes the truth will make us free.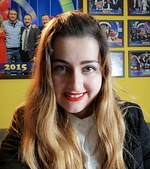 Victoria Simeonova
Victoria Simeonova is a reporter and an editor in Gospodari.com – the website of the TV show "Lords of the Air" which was on TV till the end of 2018 and is currently a web platform. Her career as a journalist starts when she is still at high school – she writes articles for different newspapers in her home town Dobrich. In 2019 she became a bachelor of Journalism and in 2020 – master of Producion and Creative Industry in Sofia University "St. Kliment Ohridski". When still in the university she works as a news reporter in Eurocom TV and since 2016 as a member of the team of "Lords of the Air" where she works currently. She won the prize for investigative journalism "Radostina Konstantinova" in the student's category in 2018. In 2019 she won the special prize in the field of Social sciences in the contest "Student of the Year" organized by the Student's council of Sofia University. Most of her materials are in the field of the investigative journalism.
Contact: v.simeonova [at] gospodari.com
Yuzlem Tefikova
Yuzlem Tefikova is an editor at BNR – Radio Bulgaria. She graduated from the Shumen University "Bishop Konstantin Preslavski" with a Bachelor's degree in Journalism. She is interested in topics related to society, youth in Bulgaria, education, freedom of speech and media law. She enjoys reading. She believes that journalism is primarily reading and listening and then writing and speaking.
Contact: [email protected]